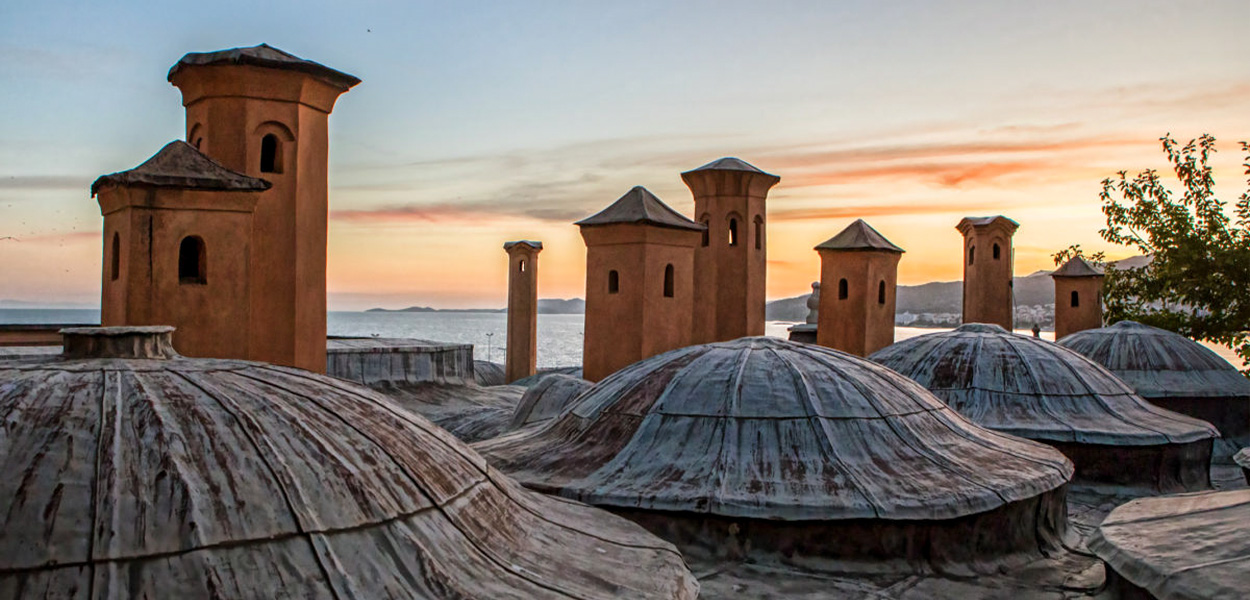 Nowhere is Mohammed Ali's interest, for the town of his birth, more apparent than with the magnificent complex (Külliye) of an impressive Imaret, Koranic school and charitable center which began constructing in 1813. The edifice supported the educational, social and religious needs of the Muslim population and ceased its operation, after their departure from the area, in 1923.
Located below the fortress and in the middle of the historical district of Kavala, Imaret is a rare example in Europe, a masterpiece of 19th century Ottoman architecture, which also features elements of timber secular structures.
The variety of decoration, the quality of the delicate structures, the interaction between indoor and open spaces and the adaptability of the functional structures create an original complex of high aesthetic and cultural value.
The complex included an elementary school and two higher level colleges dedicated to the instruction of the traditional Islamic curriculum, modern sciences and mathematics.
Imaret is one of the earliest examples of western style technical school providing secular education in the Ottoman Empire and reflects Mohammed Ali's program of modernization. The complex had 61 rooms for up to 300 boarding students, two study halls, a library, a printing press and a soup kitchen (Imaret) to feed students, travelers and the poor, regardless of religion. To meet the religious and hygiene needs of its occupants, the complex also contained a place for prayer, fountains for ablutions and a hamam. Cisterns underneath the structure guaranteed a continuous source of water.
With the passage of time, the charitable and educational purposes of the foundation declined. According to surviving records, the School continued to function as late as 1902, and the soup kitchen as late as 1923. After the Lausanne Treaty and the exchange of populations between Greece and Turkey, the complex housed Greek refugees from Asia Minor (1927-1960).
In 1954, Imaret along with the house of Mohammed Ali's family, were declared as protected historical monuments and recognized by the Greek State as Egyptian properties (Wakf). The two countries also agreed to create an International Cultural Center for the promotion of common culture and civilization. However, this decision was never materialized. Instead, time, the multiple changes of use and indifference, led the two buildings to a state of negligence.
In August 2001, following an agreement with the Egyptian government, the Missirian family undertook the task of restoring both monuments, in order to achieve a contemporary use, compatible with their identity, cultural significance and history.
The restoration began in November 2001 and was completed in June 2004, according to the strictest international conservation standards.